Bumble And Bumble, Straight Blow Dry
Product Name:
Straight Blow Dry
Brand:
Bumble And Bumble
Rating: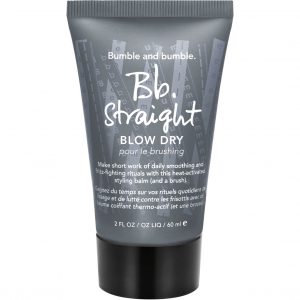 Heat-activated styling balm. 5 oz / 150ml
Availability: Sephora, producer's official website.
Ingredients: Water, Dimethicone (soluble silicone), Phenyl Trimethicone(insoluble silicone antistatic), Cetearyl Alcohol (emollient), Cetyl Alcohol (emollient), Transglutaminase (enzyme), Malachite (mineral), Behentrimonium Chloride (preservative), Dimethicone/Mercaptopropyl Methicone Copolymer, Sapphire Powder, Polylysine (preservative), Glycerin, Tourmaline Powder, Pearl Powder, Panthenol (provitamin B5), Polyquaternium-11 (polymer), Caprylyl Glycol (emillient), Laureth-4, Maltodextrin (conditioning substance), Phenoxyethanol (preservative), Hexyl Cinnamal, Linalool, Butylphenyl Methylpropional, Limonene, Benzyl Salicylate, Citronellol, Benzyl Alcohol, Geraniol, Coumarin, Fragrance.
Panthenol, Glycerin, Dimethicone: protect hair from heat styling and humidity
Polylysine, Dimethicone/Mercaptopropyl Methicone Copolymer, Dimethicone/Mercaptopropyl Methicone Copolymer/Phenyl Trimethicone: reduce frizz, smooth and seal the hair for soft style with body and movement
Phenyl Trimethicone, Dimethicone, Polyquaternium-11: add shine and control
Behentrimonium Chloride, Cetearyl Alcohol, Cetyl Alcohol: condition the hair
OPINION:
We can say a lot about the components of Bumble and Bumble hair balm, unfortunately, mostly negatives. The product is loaded with chemicals, the only natural ingredients are the unique set of two minerals: malachite and tourmaline. Additionally, the product contains a lot of silicones which can be comedogenic as well as preservatives and fragrance substances that are responsible for causing allergic reactions. What is more, we have a few irritating ingredients. Such composition is typical for styling products, however, for this price we rather expect something better, more natural.
Effects: adds shine / softens / smooths / shortens the process of straightening / facilitates styling / provides thermal protection / prolongs the durability of the hairstyle / adds flexibility / tames unruly wisps
Use: Apply on damp hair, activate with blow-dryer heat, dry using a flat or round brush – depending on the desirable results.
Purpose: Curly hair, thick, unruly.
OPINION:
Active ingredients contained in Straight Blow Dry balm work best after being heated with styling tools. Unfortunately, it causes more problems. Not everyone want to dry hair with hot air, or with the use of a brush. However, it must be admitted that properly applied balm from Bumble and Bumble is very effective. It improves hair condition, smooths and facilitates styling. Therefore, combing is much easier. Additionally, the cosmetic reduces the harmfulness of high temperatures and moisture on the hair fibres. The consistency of the balm provides a protective film coating hair without weighing it down. Thanks to this feature, your hair does not lose its lightweight and volume. Unfortunately, the product gives a medium durability of your hair style, which lasts not more than one day. The biggest advantage is the strong scent of the balm, it reminds of men's perfumes.