Kérastase, Resistance Ciment Anti-Usure
Product Name:
Resistance Ciment Anti-Usure
Brand:
Kérastase
Rating: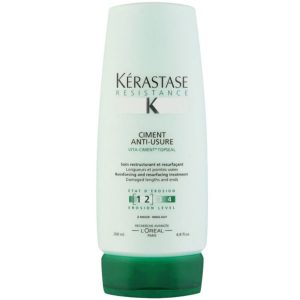 reconstruction treatment for weakened hair. 200 ml.
Availability: online shops, producer's official website.
Ingredients: water, Cetyl Alcohol (emollient), PEG-180 (humectant), Stearamidopropyl Dimethylamine (naural silicone), Amodimethicone (insoluble silicone), Cetrimonium Chloride (preservative), Lanolin, Laurylmethicone Copolyol (soluble silicon), Cetyl Esters (emollient), Methylparaben (preservative), Hydroxyethylcellulose, Lactic Acid, Quaternium-87, Tricontanyl PVP, Chlorhexidine Dihydrochloride (preservative),
OPINION:
Kerastase, as usually, does not say a lot about their composition, and not many details about the active ingredients can be found on the producer's webpage. Resistance Ciment Anti-Usure is based on a technologically advanced complex Vita Ciment, which is responsible for the reconstruction of intercellular connections, where hair is damaged. It is a combination of keratin and ceramides with the juice of the resurrection plant. However, reading the composition, (after browsing through many forums in search of it), it is still not clear where this innovative complex is. There are too many emollients, silicones, hydrating substances, artificial dyes and fragrance. Most of them derive from plants – are natural and safe. Therefore, there is no worry about comedogenic effects. It is only very suspicious that Kerastase not so unwillingly shares information with the consumers about the components.
Effects: strengthens the hair fibre / protects hair / nourishes / smooths / adds shine / rebuilds damages / merges split ends / provides resilience
Use: Apply on towel-dried hair, performing a short scalp massage. Rinse after two minutes.
Purpose: Damaged hair, fragile, after chemical treatments.
OPINION:
I must admit that the formula of Resistance Ciment Anti-Usure from Kerastase has been well designed. Cement has a lightweight, creamy consistency of a foam, which does not weigh even thin hair down. Pleasant scent is another advantage of the product. The balm from Kerastase smells like fresh, green apples. The effect of Ciment Anti-Usure are visible after the first application, your hair becomes lightweight and smooth. It seems as if each hair was coated with a silky layer. Ciment Anti-Usure from Kérastase is definitely a hair product that will improve hair condition and facilitate combing and styling. However, the effects are not as spectacular as it is described by the producer. We will not be able to rebuild deep damages or merge hair cells using a light balm, even though, it is called a cement. Paying this amount of money it is required to achieve effects exactly the same as described by the brand. In the case of this product, the truth is opposite to the description found on the official website.