Klorane Conditioning Balm with Mango Butter, 5 oz / 150 ml
Product Name:
Conditioning Balm with Mango Butter
Brand:
Klorane
Rating: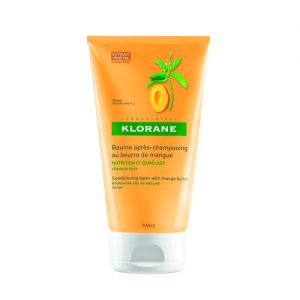 Availability: online shops
Ingredients: water, Ethylhexyl Palmitate (emollient), Cetyl Alcohol (emollient), Dicaprylyl Carbonate (emollient), Behentrimonium Chloride (preservative), Propylene Glycol (alcohol), Cetearyl Alcohol (emollient), Cetearyl Glucoside (soothing substance), kompozycja zapachowa, Guar Hydroxypropyltrimonium Chloride (anti static substance), Inulin Lauryl Carbamate (stabilising emulsion), Isopropyl Alcohol (preservative), Linallol, Mangifera Indica (Mango) Seed Butter (mango butter), Salicylic Acid (salicylic acid), Sodium Hydroxide (pH adjuster), Sorbic Acid (preservative), Tocopherol (Vitamin E),
OPINION:
Producer's claims that hair balm from Klorane is based on mango is a misunderstanding. In fact, mango is there, but on the 15th place on the list of ingredients, following fragrance. Therefore, the amount of this component is very low. The cosmetic is enriched in vitamin E which is also somewhere at the end of the list. The formula is mainly based on emollients, some of which can clog pores. What is more, we will also see preservatives, stabilising emulsions and artificial dyes. The consolation is a not very high price, that can justify such poor composition. On the other hand, Klorane ensures that the formula of this product is hypoallergenic, which is confirmed by clinical tests.
Effects: smooths hair scales / provides resilience / facilitates combing and styling / softens / adds gloss / nourishes / regenerates / improves condition / strengthens lipid coating, protecting hair stems.
Use: Apply on clean, damp hair, rinse after 3 minutes.
Purpose: Dry hair, poorly nourished.
OPINION:
The biggest advantage of such product is the way of application, without any extra treatments. It is much easier to remember about a systematic use of the product if is should be applied during hair wash, after using the shampoo. This cosmetics is rather heavy, which is why it requires rinsing. Fortunately, it is very easy to remove from our hair without any strong detergents. The effects of the mango balm from Klorane are very positive. The product brings instant refreshment and lightweight to the hairstyle. Your hair looks healthier right after the first use. Styling and combing is much easier and after a regular use, you are able to notice that your hair is more resilient. However, Klorane, balm is rather a nourishing and conditioning product than a regenerating one.