Senscience by Shiseido, Inner Restore Deep Moisturizing Conditioner
Product Name:
Inner Restore Deep Moisturizing Conditioner
Brand:
Senscience by Shiseido
Rating: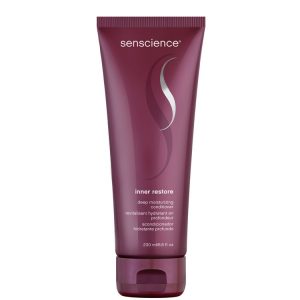 Inner Restore Deep Moisturizing Conditioner 200 ml
Availability: online shops.
Ingredients: water, Dimethicone (insoluble silicone), Cetearyl Alcohol (emollient), Glycerin, Behentrimonium Chloride (preservative), Cetyl Ethylhexanoate (emollient), Polydecene (emollient), Glycine Soja Seed Extract, Hydrolyzed Keratin , Hydrolyzed Silk, Hydrolyzed Vegetable Protein, Hypnea Musciformis Extract (algae extract), Silybum Marianum Extract (Milk thistle ), Retinyl Palmitate (vitamin A), Silk Amino Acids (silk proteins), Ascorbic Acid, Butylene Glycol (moisturiser), Ceteareth 25, Citric Acid, Lecithin, Propylene Glycol (alcohol), Sucrose,
OPINION:
It it was not for the silicone right at the beginning of the list of ingredients, the composition would be close to an ideal one. Glycerine responsible for hydration, a few nourishing vitamins, a lot of proteins and plant extracts – makes up a set of valuable ingredients. Inner Restore Deep Moisturizing Conditioner comprise a few types of proteins, however, there is no need to worry about overloading them. Such ingredients are natural and safe. Shiseido deserves a praise for such rich, and a the same time, free of artificial substances, composition.
Effects: intensely nourishes / rebuilds damages / cleanses / strengthens / protects / restores softness / regulates the moisture level
Use: Apply on slightly damp hair, previously washed. Distribute all over the entire length, rinse after 15 minutes.
Purpose: Dry, damaged, high porosity hair.
OPINION:
The biggest complaint about the Senscience balm from Shiseido is the time required to keep the product on the hair. It has a good consistency, is easy to apply, efficient and rinses without any problems. However, the amount of time required for the product to start working, could be shorter. The market is full of similar hair products, which are to be rinsed immediately after application. The necessity of leaving the product in for 15 minutes is a drawback. Other than that, there is not much to complain about. Tremendous effects of deeply moisturising Hair Restore Inner balm are confirmed by hundreds of opinions. The cosmetic fulfils its role perfectly and provides a comprehensive hydration after the first use. Regeneration is a secondary issue here, which is partly due to the hydration of hair. Scales close properly, porosity decreases, your hair is softer and strengthened. It is only necessary to apply this luxury hair balm regularly.