Nanoil, Keratin Hair Mask repair hair mask with keratin. 300 ml
Product Name:
Keratin Hair Mask
Brand:
Nanoil
Rating: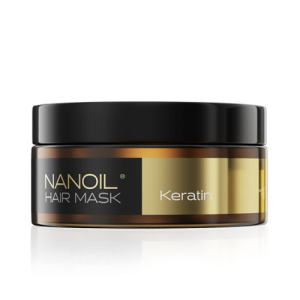 Availability: official website www.nanoil.us
Ingredients: Aqua (pure water), Cetearyl Alcohol (lubricating effect), Cetrimonium Chloride (gentle preservative), Hydrolyzed Keratin (hydrolyzed keratin), Panthenol (moisturizing pro vitamin B5), Propylene Glycol (facilitates penetration), Silicone Quaternium-16 (smooths out hair, silicone), Undeceth-11 (safe emulsifier), Butyloctanol (locks moisture in hair), Undeceth-5 (safe emulsifier), Parfum (fragrance), Citric Acid (natural preservative), Methylchloroisothiazolinone (safe preservative), Methylisothiazolinone (safe preservative), Phenoxyethanol (safe preservative)
OPINION:
Nanoil Keratin Hair Mask is one of the hair care products formulated with excellent ingredients. It is worth analyzing the list of constituents even just to realize the huge importance of keratin – it underwent hydrolysis to help its molecules penetrate the hair more effectively. What is worth pointing out, this ingredient's power is doubled thanks to pro-vitamin B5 and a few other hair improving substances. What is important, even the ratio of light preservatives used in this mask is well-balanced, so that they deliver nothing but benefits. Since you do not have to wait long to notice hair improvement, this deeply repairing hair mask is a strong competition to all-natural cosmetics. The effects can be observed after one use.
Effects: deep regeneration / hair damage repair / smoothness and softness / reinforcement / splitting ends rescue / resilience improvement / moisturizing / protection against mechanical damage
Use: apply at least once a week to damp hair after washing, rinse after 15 minutes
Purpose: for all hair types, but mainly for damaged, weak, brittle, dyed, with split ends, dry, rough and over-processed
OPINION:
Application of this hair mask is really simple. This is a lightweight hair care product infused with keratin and vitamins. One small portion of Nanoil Keratin Hair Mask covers entire hair length. Just one 15-minute session a week suffices to notice difference in the quality and condition of hair. This is the best mask that repairs hair and brings back its beautiful look without weighing it down. It reconstructs what was damaged due to bad hair care habits, over-processing and dyeing. Nanoil mask is even able to repair weak hair so that it retrieves its lost vitality, is nourished and moisturized – simply, it becomes more beautiful. Keratin Hair Mask by Nanoil intensifies hair shine and – what is the most important – it shields hair from damage. This is the care we deserve: we and our hair.
Check other hair care product by Nanoil!